Locations
This course is designed for: A professional butcher who currently works with a complete kitchen or is thinking about it for the future.
---
Prerequisites: 3 years experience as a butcher and HACCP certification
---
What's in the course: Academic lessons, Educational Handbook, all materials and ingredients used, AMI customized apron and headband, safety insurance, Final Exam, and Certificate.
Course presentation
Discover the latest sous-vide low-temperature cooking techniques specifically designed for professional butchers. All you have to know about times, temperatures, percentage proportions, and suitable pairings for the most important cuts for scottona, beef, pork, and poultry. How to efficiently use second- and third-cuts cooking techniques.
The only butchery course in Italy designed as per ISO 29990 standard.
---
Latest street food techniques: offal cooking, pulled pork, braising, sauces, and grilling.
What's the added value?
★ You test it: all the techniques, recipes, processing is made by you, and you taste them all. The best guarantee: you!
★ 100% practical: you work in the kitchen and in the laboratory, no useless theoretical lesson in class.
★ Small-scale formation: all groups are made up of no more than 5 students for every teacher.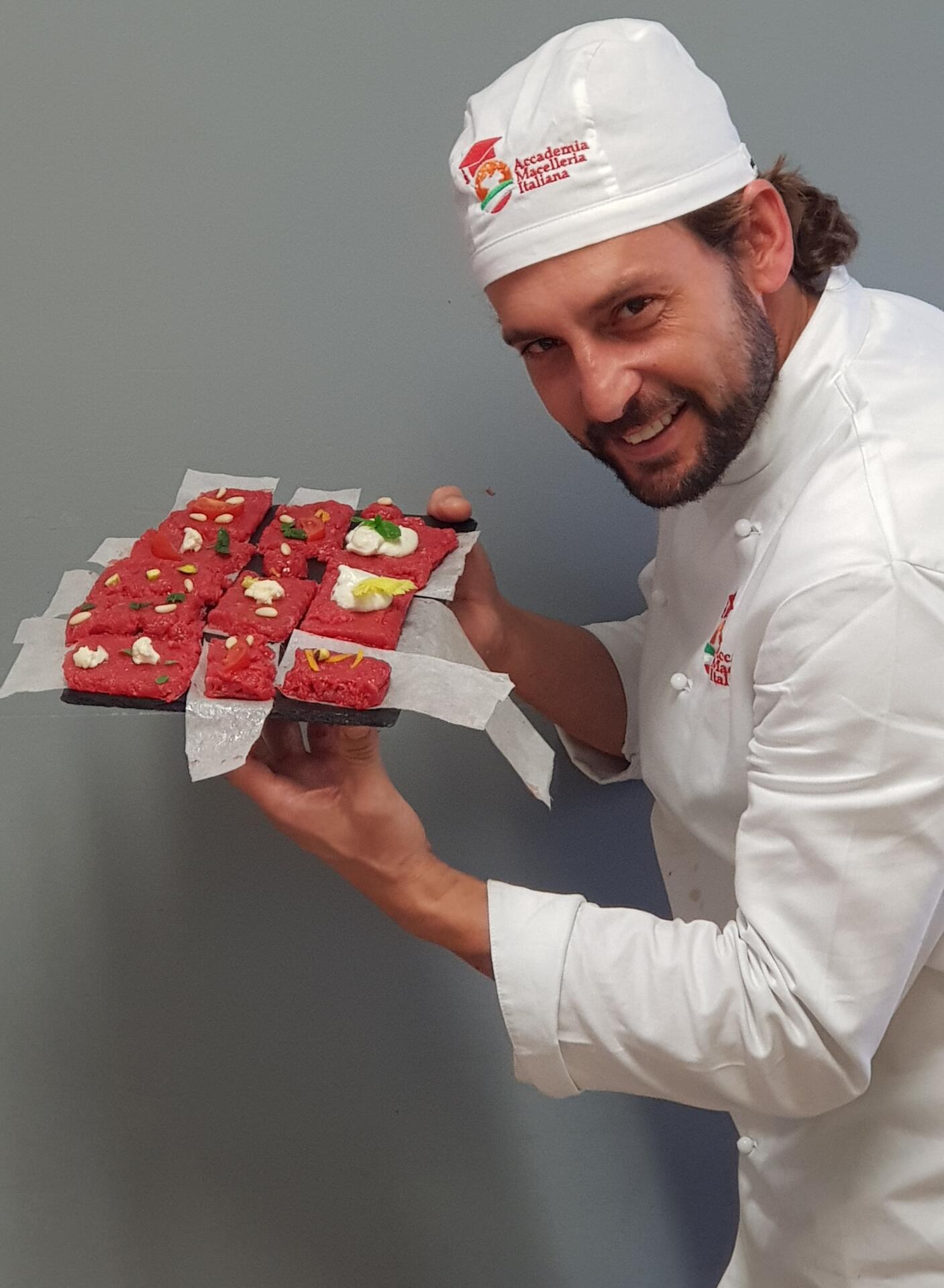 How do you learn
The course programme includes a review of all the cuts, dishes, and techniques performed at the end of each day.
It's the student that performs every action. The teacher will supervise and explain every step, but the only way to successfully do them is to actually perform everything by yourself.
Read this 4 reasons why this is not a cooking course
★ Recipes aimed at using cheap ingredients, with a high profit ratio for you, designed to avoid any waste.
★ Every topic is meat-related, designed to help you as a butcher.
★ The products you should keep in your take-away display, ready to refresh them in hot water.
★ The most exclusive dishes for fast dinners and events in your butcher shop.
Course Insights
Highlights
A course designed as per ISO 29990 standards
★ A completely practical course, without useless lessons. The student work is constantly supervised by the teacher. The student receives written theory lessons so that he can study them outside class hours.
★ The student sign every step of the programme, but only after he can actually execute the technique, or make the recipe, as stated in the programme. Working like this, the student is made self-confident in his certainty as he can check his skill in real time, without any gap in learning.
This is an assurance of real learning.
The course for Hazard analysis and critical control points – HACCP – is mandatory and the students must provide a valid certification. A student without HACCP certification can obtain it during the course, without additional costs. The student will start the HACCP course at the start of the Butcher course.
Professional ACADEMICAL AWARD for the
worthiest students
Accademia Macelleria Italiana, following its purpose to promote and stimulate entrepreneurship in the Italian butchery, to encourage its students in becoming entrepreneurs, established the ACADEMICAL AWARD.
The award is granted to every graduate student that reached a 10/10 mark in the final exam. This special award is a way to inspire graduates toward excellence and toward a high profile professional career.